2018 Mantra Meditation-A New Dawn
An Online 40-Day Supported Mantra Practice
January 22-March 2, 2018 
For details and registration, please click here

200-Hr, Yoga Alliance Certified, Mantra Teacher Training & Study Immersion in the lineage of Thomas Ashley-Farrand (Namadeva Acharya) 
For all information, please visit mantrateachertrainings.com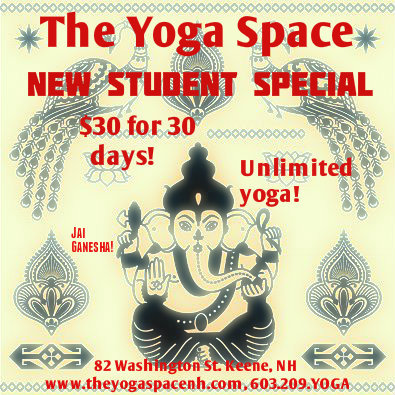 Namaste
The Yoga Space is a place of peace. 
It is a place of practice & purification, healing & rejuvenation, stillness & quiet. A place of rest.  
A place of oneness and community, joy and connection.  
A sanctuary for the teachings of Yoga.
INVOCATION
Om Sri Gurubhyo Namaha
Om Sri Ganeshaya Namaha
Om Eim Saraswatyei Swaha
Om Sri Kula-devatabhyo Namaha
Om Sri Ishta-devatabhyo Namaha
Om Sri Mata-pitra-bhyam Namaha
Om Sri Sarve-bhyo Deve-bhyo Namaha
Om Sri Sarve-bhyo Brahmane-Bhyo Namaha
~~~~~~~ 
Salutations to the spiritual teacher
Salutations to he who removes obstacles
Salutations to she who is the key to spiritual knowledge
Salutations to the family deity
Salutations to the personal form of deity
Salutations to the Mother and Father
Salutations to the source of Celestials
Salutations to that state of consciousness that contains everything without being full or altered in anyway from its natural state.
Yelp Review for The Yoga Space 5 stars!
New Hampshire has at least two studios that are not Americanized.  The Yoga Space is located in a small cottage behind a converted house that now contains offices.  The room is warm in both climate and atmosphere.  The practice retains the chants, and OMS, but if you do not feel comfortable partaking, your choice is respected.  The price is reasonable, but do bring cash or check as debit cards are not accepted.  Overall, it is tied for the best studio in the state.  Highly recommended.