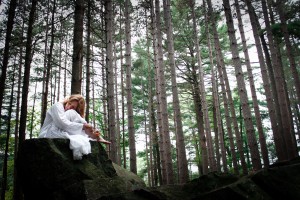 Drawing from the elements of nature allows us to feel and sense our power. We are nature, innately. Feeling the sun, the trees, the sky, the rocks, the water, we can only go deep inside to feel life's current. The magic of life, the celebration of life, the freedom and connection of life.
The tantric nature of Hindu Ceremony brings us closest to our infinite wisdom. The veils are shattered and we are left with the presence of the Divine. Raw and exposed, anything is possible in these moments.
Earth, water, fire, air, ether; we use and acknowledge these 5 natural elements with Sanskrit Mantra to call upon the mystical and sometimes very tangible deities. Miracles happen, shifts happen, and we rest in the trust and flow of our own path.
Ceremony and Mantra practices are open and available to anyone, regardless of age, situation or religious belief. They are sacred tools we can all use to help merge our energies to the greater source of life, where there are no obstacles; free from judgement, pain and illness.
It is our birthright to live in peace.
MANTRA CONSULTATION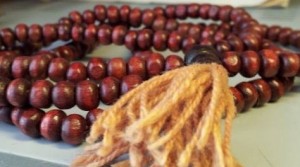 The word "mantra" comes from the Sanskrit words "manas" (mind) and "trai" (to protect or set free from). Mantra simply means "to set free from the mind".
Sanskrit is an energy-based language. Each letter and word carries a specific frequency, which when chanted, can heal, purify, protect, strengthen and calm. It is a powerful tool that can be applied to all life situations. With the proper guidance, the practice of mantra can change your life.
General categories of mantra assistance can include: Abundance/Prosperity, Relationships, Work/Career, Health, Protection and Addictive Behavior.
All situations are unique to the individual and are advised with divine grace and care.
You need not have any prior experience with yoga or other spiritual practices to benefit from the practice of mantra.
Rates for Mantra Consultations:
30 minute consult…$50
60 minute consult…$90
*Consults may be given over the phone or in person and are confidential.
*All consults include preparation and follow-up email correspondence.
*Discounts for multiple consults are available.
PUJA CEREMONY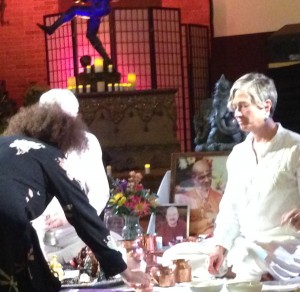 Vedic Puja Ceremonies are the oldest existing ceremonies in the world. The ancient devotional and spiritual science of Puja is like a powerful prayer, supported and assisted by divine energy.
Pujas may be used for many different life situations, including blessings and celebrations; for new beginnings, prosperity, career, health and healing, reduction of karma, assistance and guidance, rites of passage, marriages, births, memorials.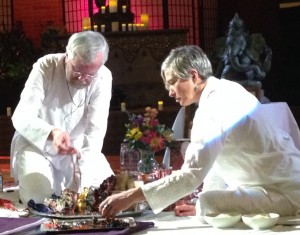 Performed by a trained Pujari/Vedic Priest, ceremony is a vehicle which taps into the unlimited possibilities, resulting in energetic shifts that can increase awareness, transform and allow for the manifestation of true desires.
Pujas can be tailored to meet specific needs.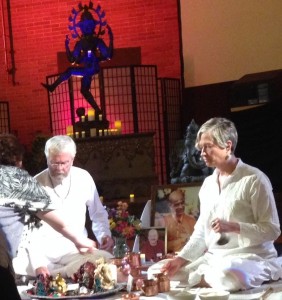 GANESHA PUJA – the remover of obstacles through internal balance. Helps to remove obstacles of any kind and bring success to new endeavors.
SHIVA PUJA – supreme consciousness. For connecting to the elements of creation, transformation and happiness.
KRISHNA PUJA – the incarnation of divine love. Invokes divine love into your life through relationships and/or spiritual devotion.
LAKSHMI PUJA – the goddess of abundance. Promotes abundance of all forms such as love, peace, health, prosperity.
SARASWATI PUJA – the goddess of spiritual knowledge. For blessings in the arts, music, sciences, speech and spirituality.
DURGA PUJA – the goddess of strength and protection. To invoke protection and destroy negativity.
RAMA HEALING PUJA (extended) – for healing on all levels, physical, emotional, mental, spiritual.
PLANETARY PUJA (extended) -to soften and reduce karma.
Rates for Puja Ceremonies:
Regular/Standard Puja
(60-90 minutes in length)…$175
Extended Puja
(2-3 hours in length)…$225
Wedding Ceremony,
Memorial Service…$325
*All puja ceremonies offered follow the classical sixteen component form (Shodasho-pachara Puja).
*All ceremonies include preparation and follow-up email/phone correspondence.
*Most puja ceremonies are performed remotely. If travel is required, there are additional charges.
*Discounts for multiple ceremonies are available.
*All Mantra Consultations and Ceremonies are offered by certified Sanskrit Mantra Teacher, Pujari/Vedic Priest Gretchen Carmel (Rajeshwari), and may be scheduled by contacting The Yoga Space. For further information on Rajeshwari, please refer to her full bio on the Teacher's Page.