200-HOUR MANTRA TEACHER TRAINING & STUDY IMMERSION in the lineage of Namadeva Acharya (Thomas Ashley-Farrand)
2017 Trainings:
July 1-22, Nosara, Costa Rica, click here
October '17-May '18, Keene, NH
Please visit the Mantra Teacher Training page http://theyogaspacenh.com/mantra-teacher-trainings/200-hr-mantra-teacher-training/
SONGS FROM THE SOUL
an evening of KIRTAN
Mystic Poetry & World Percussion
May 6th, 2017, 7pm
with Brenda McMorrow & John de Kadt
Brenda McMorrow and John de Kadt create a powerful and ecstatic Kirtan experience of song and sound, featuring Brenda's exquisite voice and folk-inspired guitar and John's mesmerizing percussion and spoken word. Their music and mystic poetry, along with the sublime steel Hang (pronounced "hung"), take us on a stirring, nourishing and heart opening journey into the world of sacred sound.
John de Kadt: John de Kadt is a percussionist, storyteller and poet. He has studied and played ethnic hand percussive instruments for over 30 years; studied with percussion masters around the world; and has performed on PBS and NBC. John tours internationally and plays at Yoga festivals, retreats and events across the globe. He has released 6 CD's and is highly sought after for his unique blending of drums with mystic poetry and the great myths of the world. www.johndekadt.com
"One Hoop" https://www.youtube.com/watch?v=hDVP-ksqABY
"Slap" https://www.youtube.com/watch?v=O5gJ1uv2JF4
Brenda McMorrow: Brenda McMorrow is known for her unique and warmly embracing style of mantra music, in which she blends elements of acoustic folk, world rhythms and ancient Indian chants with a sweetly introspective singer-songwriter's sensibility. Yoga Journal describes Brenda as having "a knack for expressing the deepest realizations in the sparsest lyrics".  As spiritual teacher Ram Dass has said: "Brenda has a gift", and her music has been touching people's hearts worldwide. With 4 celebrated devotional chant albums, Brenda is a featured artist on the White Swan Records roster, a Colorado label well known for it's high-profile yoga-inspired artists like Deva Premal.  Brenda has been invited to Festivals and events across North and South America, Europe and Asia as part of her most recent tour schedule. www.brendamcmorrow.com
"My Heart Bows Down to You" from Brenda's latest album:
https://www.youtube.com/watch?v=u2ERRgP7xFs
Brenda's Sri Ma Video with David Darling: http://www.youtube.com/watch?v=yMciImScvoo
Brenda's Hanuman Chalisa Video: http://www.youtube.com/watch?v=d-LImxGdKCc
$20 pre-registration (pay below), $25 at door
Songs of the Soul KIRTAN ticket options
SUN MANTRAS-RAISING VIBRATION
Health, Stability, Strength
An Online 40-Day Supported Mantra Practice
Created and Offered by Rajeshwari Gretchen Carmel
(Senior Teacher in the lineage of Namadeva Acharya, Thomas Ashley-Farrand)
June 12 – July 21, 2017 
Namaste,
You are invited to join me in a very powerful and sacred 40-day supported mantra practice. The repetition of mantra, called japa, is an ancient meditative tool which can reduce karma and ease suffering, bringing us closer to our true potential.
A 40-day practice constitutes a complete discipline and is considered by many traditions the minimal amount of time to heal/shift/change and transform. Anyone can practice mantra. You do not need to have any previous experience with yoga or mantra or have any specific spiritual belief to fully receive the benefits.
ABOUT THIS PRACTICE: 
Sun Mantras-Raising Vibration
What will the season of Summer bring for you? How will you embody light and prosperity?
The Summer Solstice is when the sun reaches its highest position in the sky, its greatest height, its greatest abundance and most light. At this time of year, we have the opportunity to take in more light and experience its healing qualities.
This mantra discipline SUN MANTRAS-RAISING VIBRATION works along with the natural rhythms of Summer, magnifying the qualities of the sun and expanding the possibilities of deep renewal and healing.
Chanting the ancient vibrations of Sanskrit in a collective group, we will build the energy of abundance internally, bathe in the energy of the Summer Solstice and expand/utilize the energy for manifestation. The timing of this practice is perfect!
This practice is designed to:
1) Dispel darkness through the light of the sun, bringing health and well-being.
2) Allow and embody the radiant qualities of the sun for more energy and clarity in thought and action.
3) Tap into the inner fire element to feel and maintain stability and strength physically, emotionally, spiritually.
4) Call in the energy of the sun to illumine and enlighten, bringing one closer to full potential and truth in all areas of life.
We balance internal and external abundance.
Join me, as we dissolve barriers through sound,
connection and awareness.
Whether we seek balance in the areas of physical or mental health, finances/career, relationships or spiritual advancement/illumination, mantra disciplines give us the opportunity to accelerate the journey of personal transformation.
HERE'S HOW THIS 40-DAY SUPPORTED MANTRA PRACTICE WORKS:
On June 11th, you will receive the mantra practice in its entirety online with recordings of the mantras and details on the practice. There are varying lengths to the practice which range anywhere from 3-20 minutes. You can choose which form is best for you. The mantras do not change. The mantras are then chanted daily, at your convenience, for 40-days from Monday, June 12th – Friday, July 21st.
This practice includes several mantras and instructions for the discipline, mantra recordings, the benefit of the daily collective healing group energy, weekly newsletters, and 40-day online support if needed,
plus OPTIONAL participation in a private Facebook forum page.
THERE ARE 2 WAYS TO PARTICIPATE in this 40-day supported mantra practice:
$54-This includes the benefit of the daily collective healing group energy, weekly newsletters, optional private Facebook group forum and 40-day online support.
$81 ($108 value)-This includes the benefit of the daily collective healing group energy, weekly newsletters, optional private Facebook group forum, 40-day online support, PLUS A PRIVATE PHONE CONSULTATION WITH RAJESHWARI SCHEDULED WITHIN THE 40-DAYS.
*GROUP OPPORTUNITY
Groups of 6 or more participants can receive additional guidance and support on organizing and facilitating group chants during the 40 days. A wonderful teaching for yoga teachers/studio owners/health care practitioners. Please contact me for details and/or questions.
You'll be participating with like-minded folks all around the globe, contributing to a collective mission of peace and transformation.
Materials for this practice will be sent out on June 11th.
Chanting in this way as a group, with the same mantras during the same 40-day period, can bring tremendous results. The energetic support intensifies the practice and brings great possibility for growth and life changes.
I look forward to sharing this journey with you!
In Love and Service,
Rajeshwari
PLEASE PRE-REGISTER:
1) For your convenience, you can register online through PayPal below:
40-Day Mantra Price Options
2) OR mail payment to The Yoga Space
3) OR register at the studio.
ADDITIONAL NOTE:
Upon registration, it is appreciated, for integrity purposes, that the sacred materials of this mantra practice and the intended 40-day practice outlined, be used only by the registrant, and not copied or distributed in any way.
Wednesday, June 21, 7:15-8:30pm with Raji
HEALTH, BALANCE, PEACE
Experience the power of group chant. BEGINNERS WELCOME!
The ancient sound of mantra is a meditative practice of sound, vibration and healing. The Sanskrit language has a direct effect on our energetic and physical bodies, leading us to a state of peace, personal transformation and complete well-being.
We'll chant solar and planetary mantras to usher in the energy of the Summer Solstice, honoring the sun at its peak.
Facilitated by Rajeshwari Gretchen Carmel, senior teacher in the lineage of Namadeva Acharya (Thomas Ashley-Farrand).
Sliding scale fee $18-25.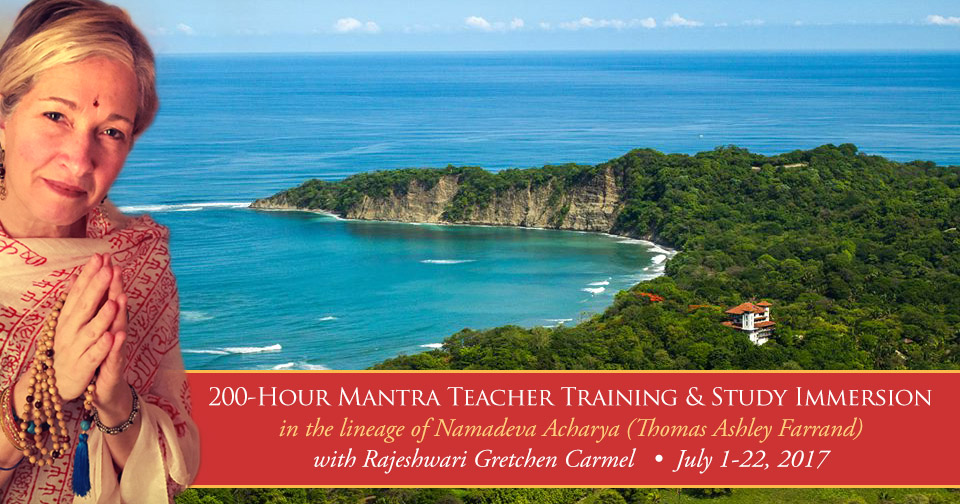 200-Hr MANTRA TEACHER TRAINING & STUDY IMMERSION in the lineage of Namadeva Acharya (Thomas Ashley-Farrand)
July 1-22, 2017, To register click here
at Blue Spirit Costa Rica! www.bluespiritcostarica.com
AND IN KEENE, NH, OCT. '17-May '18
Please visit the Mantra Teacher Training page http://theyogaspacenh.com/mantra-teacher-trainings/200-hr-mantra-teacher-training/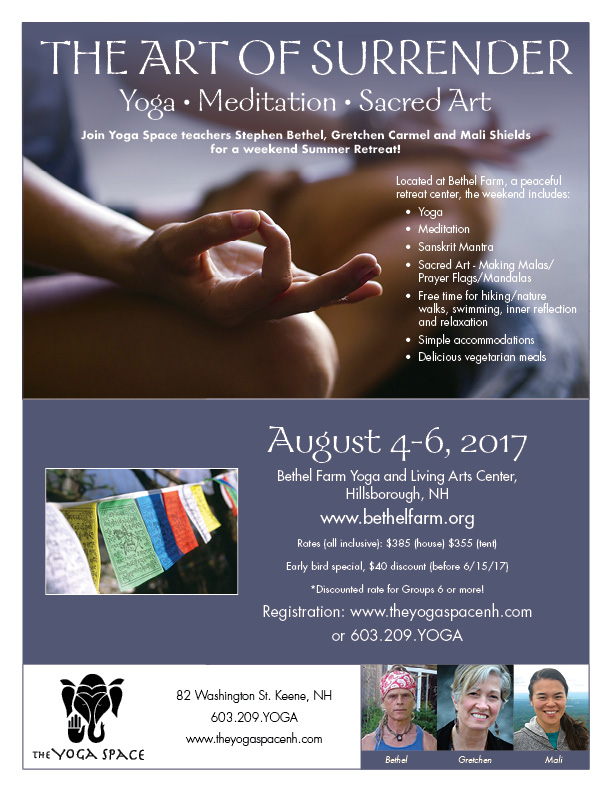 THE ART OF SURRENDER
Yoga.Meditation.Sacred Art
August 4-6, 2017
Join Yoga Space teachers Stephen Bethel, Gretchen Carmel and Mali Shields for a weekend Summer Retreat!
Located at Bethel Farm, a peaceful retreat center, the weekend includes:
-Yoga
-Meditation
-Sanskrit Mantra
-Sacred Art – Making Malas/Prayer Flags/Mandalas
-Free time for hiking/nature walks, swimming, inner reflection and relaxation
-Simple Accomodations
-Delicious vegetarian meals
Bethel Farm Yoga and Living Arts Center, Hillsborough, NH, www.bethelfarm.org
Rates (all inclusive): $385 (house) $355 (tent)
Early bird special, $40 discount (before 6/15/17)
*Discounted rate for Groups 6 or more!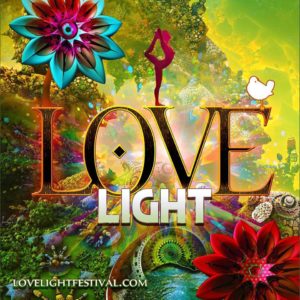 LOVELIGHT YOGA & ARTS FESTIVAL
AUGUST 18-20, 2017
Darlington, MD
Mantra Japa Meditation: 108 rounds of The Gayatri Mantra with Rajeshwari Gretchen Carmel 
"O Self-Effulgent Light that has given birth to all the lokas (spheres of consciousness) who is worthy of worship and appears through the orbit of the sun, illumine our intellect."
Among all the millions of mantras recorded in archives, the Gayatri Mantra is the essence of all mantras. The Sanskrit words contain essential vibrations of the upper luminous spheres of light. All spiritual powers and potencies are contained within them. For accumulation of the highest spiritual light and attainment of enlightenment, nothing else compares to the Gayatri.
Join Raji as we chant 108 repetitions of the Long Form Gayatri Mantra, adding four seed sounds to honor Lord Ganesha (remover of obstacles), Lakshmi (goddess of abundance), Saraswati (goddess of spiritual knowledge, music, science and the arts), and the Hrit Padma (the self, soul, jiva, the three-fold flame). A short Arati Ceremony will also be included. Feel free to wear white (or light colors) and bring items to be blessed (malas, jewelry, pictures, murthis.) Flowers and fruit are welcomed as an offering
For more information and to register, please click here.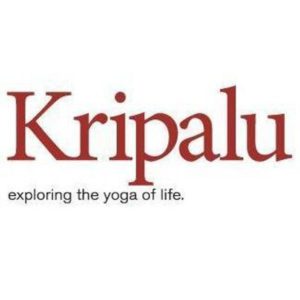 MARK YOUR CALENDARS! 
BHAKTI EMPOWERMENT THROUGH MANTRA & VEDIC CEREMONY
at Kripalu Center for Yoga & Health
October 9-12, 2017
with Bhavani Lorraine Nelson, Rajeshwari Gretchen Carmel and Bill Barry (Bharata) 
Travel to the mystical realms of Sanskrit mantra and Vedic ceremony, and amplify your connection to Source as you tap into yogic secrets of profound transformation.
Join three talented and experienced teachers to explore
• The role of a home altar in devotional practice
• The power of the Sanskrit alphabet
• The archetypal energies represented by Hindu deities
• Mantra meditation practices
• The community-building power of chanting
• How to perform a basic Vedic arati ceremony
• How to access the river of devotion in daily life
Take home resources for developing your own bhakti practice, including mantras appropriate for your specific life situation.
Note: Tuition includes a link for downloading workshop mantra recordings.
For more information and registration, please visit www.kripalu.org