CONSIDER GIVING THE GIFT OF YOGA!
Gift certificates for any amount are available!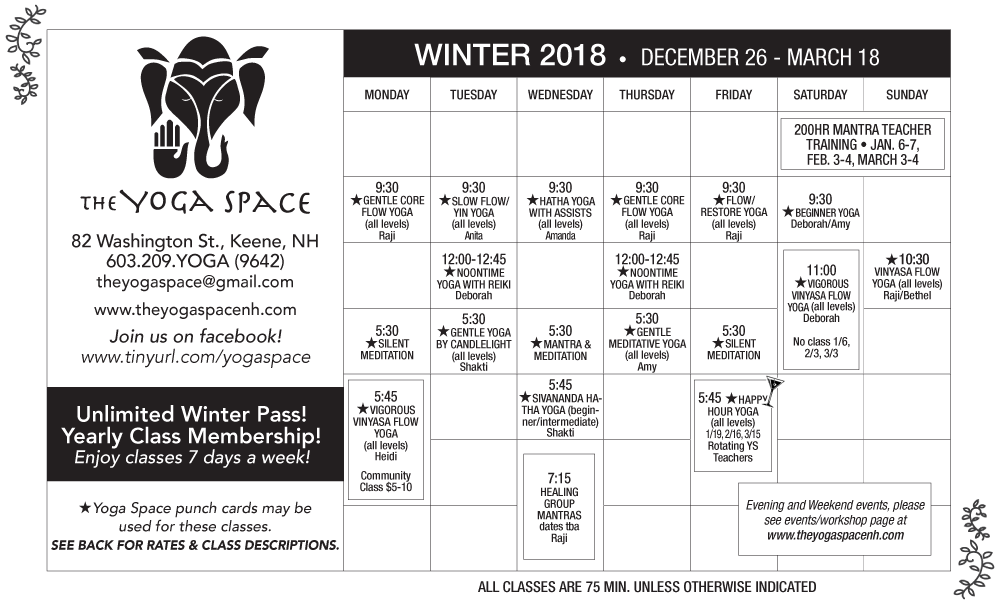 Try our Community Class ($5-10) – Vigorous Vinyasa Flow Yoga for all levels, Mondays at 5:30pm!
CLASS RATES FOR WINTER 2018 SCHEDULE
Single Class – $16
16-Class Punch Card – $168*
Unlimited Autumn Class Pass – $360*
*Punch cards valid from 12/26/17 through 3/18/18.
1 Year Unlimited Class Membership $1198
(Includes unlimited classes plus added benefits. Please call The Yoga Space for details.) 
ADDITIONAL SERVICES
Private Yoga Session – $75
Phoenix Rising Yoga Therapy Session – $90
Reiki Session – $75
Thai Massage – $75 – $135
Mantra Consultation or Puja/Yajna Services – Please call for details
***Multi-session Discounts Available***
Please ask about student rates. No one will be turned away due to finances. Work-study options available.
CLASS DESCRIPTIONS
BEGINNER YOGA – Learn the basics of this ancient practice. A combination of gentle yoga postures, deep breathing, beginning meditation and relaxation. Offered in a stress-free, non-competitive environment. This class is suitable for the complete beginner or those wanting a gentle practice. 75 min.
EARLY MORNING FLOW (all levels) – Rise and shine! A gentle start with meditation and pranayama, building the energy and breath with flow poses, integrating with relaxation. The addition of soothing essential oils are offered for this class, if desired. 60 min.
FLOW/RESTORE (all levels) – Wonderful for the end of the week and complimentary to the other morning offerings, as we begin with an upbeat yoga flow to open and energize and then slowly transition to gentle restorative poses to release deeply held tensions. A beautiful combination to bring balance and healing. 75 min.
GENTLE CORE FLOW YOGA (all levels) – A slow and gentle vinyasa flow yoga class with an emphasis on core strengthening. "Vinyasa" means to link movement and breath together, experiencing the joy of meditation in motion. Learn to move from your core, incorporating pranayama (breath control),  dristi (placement of eyes), bhanda (gathering of energy), meditation, and deep relaxation. 75 min.
GENTLE MEDITATIVE YOGA (all levels) – A healing practice of gentle yoga, stretching and meditation to deeply relax. An opportunity to slow down, increase flexibility, strengthen and cultivate awareness. Ends with a blissful relaxation. 75 min.
GENTLE YOGA BY CANDLELIGHT – A healing practice of gentle yoga and stretching to deeply relax and calm, enhanced by the soft glow of candlelight. 75 min.
HAPPY HOUR YOGA (all levels) – Come join us as we celebrate the end of the week! An all level flow practice guided by a different Yoga Space teacher each week. Restorative poses help support relaxation. Relieve accumulated stress; shifting to a state of peace and balance. Specialty teas, smoothies and yogic cocktails served! 75 min.
HATHA YOGA WITH ASSISTS (all levels) – Pamper yourself holistically so you can go back into the world and nurture others. This class will include chanting, pranayama (breathing exercises), meditation, yoga philosophy, intelligently designed asana (posture) sequencing, aromatherapy, and lots of skilled hands on assists. 75 min.
HEALING GROUP MANTRAS – Immerse in the ancient sound of mantra and basic meditation. Learn the healing properties of Sanskrit and experience the power of group chanting.  No previous experience with mantra or yoga is necessary! 75 min.
$18 per class
*Please visit the events/workshop page for details on specific dates and content of this class.
HEATED MEDITATIVE FLOW (all levels) – We'll turn the heat up just a notch! Be kind to your muscles this Winter and experience a soothing all level yoga flow in the radiant warmth of a heated room; strength, vitality, flexibility, purification, healing, expansion and deep layers of blissful relaxation. 75 min.
*This class is intended to give you the benefits of extra heat to your practice without the possible contraindications of a standard hot yoga class.
VIGOROUS VINYASA FLOW YOGA (intermediate) – For the more experienced practitioner, a vigorous flow to heat and cleanse with moments of stillness to reflect, balance and integrate, 75 min.
NOONTIME YOGA with REIKI – An invigorating midday yoga practice with a touch of Reiki! 45 min.
RESTORATIVE WITH YOGA NIDRA (all levels) – Restorative yoga is a gentle, slow-paced practice that uses props (bolsters, blocks, blankets and straps) to support the body in passive stretches that are held for several minutes at a time. This active relaxation within a passive yoga practice alternately stimulates and relaxes the body, moving it towards healing and balance.
Yoga Nidra is a traditional Tantric practice of nyasa in which awareness is guided around the body in a particular sequence. In this deeply relaxing guided meditation a practitioner often alternates between the waking and sleeping state and physical, mental and emotional tension is easily resolved. One hour of Yoga Nidra is equal to four hours of sleep.
This practice is appropriate for stress relief, for people recovering from surgery and injury, or for anyone who is interested in a slow, gentle and deeply relaxing practice. 90 min.
*Please visit the events/workshop page for details on specific dates and content of this class.
SILENT MEDITATION – (all levels) 15 minutes of silent unguided meditation. May be attended separately or as a preparation to the Monday, Wednesday and Friday 5:45pm yoga classes.
SIVANANDA HATHA YOGA (Beginner/Intermediate) – A meditative practice focusing on conscious breath work with steady poses and periods of deep relaxation, beginning and ending with mantra. Balancing and invigorating, practiced in the hatha lineage of the Sivananda Yoga Vedanta tradition. 75 min.
SLOW FLOW/YIN YOGA (all levels) – A slow paced class allowing the student to explore movement and breath, ending with longer held poses focused on the hips and low back. 75 min
VINYASA FLOW BY CANDLELIGHT (all levels) – A flowing, energy building practice, enhanced by the soft glow of candlelight. 75 min.
VINYASA FLOW YOGA (all levels) – A relaxed style vinyasa flow yoga class perfect for the weekend! Experience movement and breath, awareness and alignment, relaxation and inner peace. Suitable for all levels of practitioners. 75 min.
YOGIC HOOPING – Hoop dance has existed for centuries in various forms all over the world. The circular shape represents the earth and the continuous cycle of birth, death and rebirth. The benefits are limitless! Hooping supports cardiovascular health, increases circulation and massages the spine and inner organs. The spiraling motion is both meditative and energizing, awakening the kundalini energy while creating a deep sense of connection. Traditional yogic breathing and postures are incorporated, class finishes with blissful stillness in the form of savasana. Handcrafted hoops will be available to use during class. You also have the opportunity to place an order for your own personalized custom hoop! 75 min.
*Please visit the events/workshop page for details on specific dates and content of this class.
ADDITIONAL SERVICES
PRIVATE YOGA SESSION – a wonderful way to explore yoga in a relaxed, personalized setting, tailored to your individual needs. Sessions can include: a basic understanding of yoga and its many benefits; correct alignment in yoga postures; instruction on deep breathing, meditation and relaxation techniques; yogic philosophy and guidance on healthy lifestyle. Beginner students who would like to learn the basics or experienced students who would like to deepen their practice can both benefit greatly from private sessions. 60 min.
PHOENIX RISING YOGA THERAPY SESSION – a one-on-one session which combines classical yoga techniques and elements of body-mind psychology. With gentle guidance, you are encouraged to slow down, reconnect, and listen to your own inner voice, embracing the opportunity for change, growth and enhanced well-being. No previous yoga experience is necessary. 90 min.
REIKI SESSION – a simple, natural and safe method of hands on healing. Reiki, made from two Japenese words – Rei meaning "wisdom or higher power" and Ki meaning "life force energy". Reiki treats the whole person including the body, emotions, mind and spirit, tapping into the unlimited supply of life energy for benefits such as relaxation, peace, integration, stress-reduction and improved health. 60 min.
MANTRA CONSULTATION & PUJA SERVICES – Please refer to the Ceremony & Mantra page for details.
*The above services are offered by Gretchen Carmel (Rajeshwari) and can be scheduled by contacting The Yoga Space.*
THAI YOGA MASSAGE WITH MARMA THERAPY
with Sarah Siri Kirtan Carlisle
A dynamic bodywork therapy based on the healing sciences of Yoga and
Ayurveda, born in the of Thailand. In this unique healing system of
Thai Yoga (also called Nuad Boran and widely known as traditional Thai massage), the practitioner guides the recipient through a series of assisted yoga
postures (requiring no effort from the client) while palming, thumbing, (as well as kneeing, & elbowing!) along the body's "Sen" lines (meridians) and Marma points. Marmas are the junction points between body, mind, and emotions. Using gentle pressure, the vital energy points are stimulated for restoration and rejuvenation,
awakening your inner healing system.  Thai massage is performed on a mat on the floor, and it is recommended for the recipient to wear loose, comfortable clothing. No oils or creams are used. For further information, cost and to schedule an appointment, please contact Sarah at sarah.carlisle@gmail.com.
RATE INFORMATION
The Yoga Space offers many different payment options for your convenience:
~You may drop-in for a single yoga class at anytime for $16, student rate is $10.
~We offer Seasonal Class Punchcards. The number of classes on the punchcards vary with the length of the season. Special Unlimited Seasonal Class Passes and Yearly Unlimited Class Passes are also available. (Please see the listing above for the current seasonal rates.)
~Punchcards are valid for 1 season only and are not transferable.
~All classes on the schedule with a star * are included on our punchcards and unlimited class passes. For classes without the star, please contact the teacher directly for any questions. You will find their contact information under Class Descriptions.
~Student rates are available for punchcards and unlimited class passes. Please contact us and we'll be glad to share the details, as prices may vary with each season.
~The Yoga Space graciously accepts cash, personal checks and money orders.
~Work-study options are available. We would like everyone to have the opportunity to experience the many benefits of yoga. No one will ever be turned away due to finances.
~Please note that we do not offer refunds on punchcards, unlimited class passes, workshops, events or retreats. Special circumstances may apply.