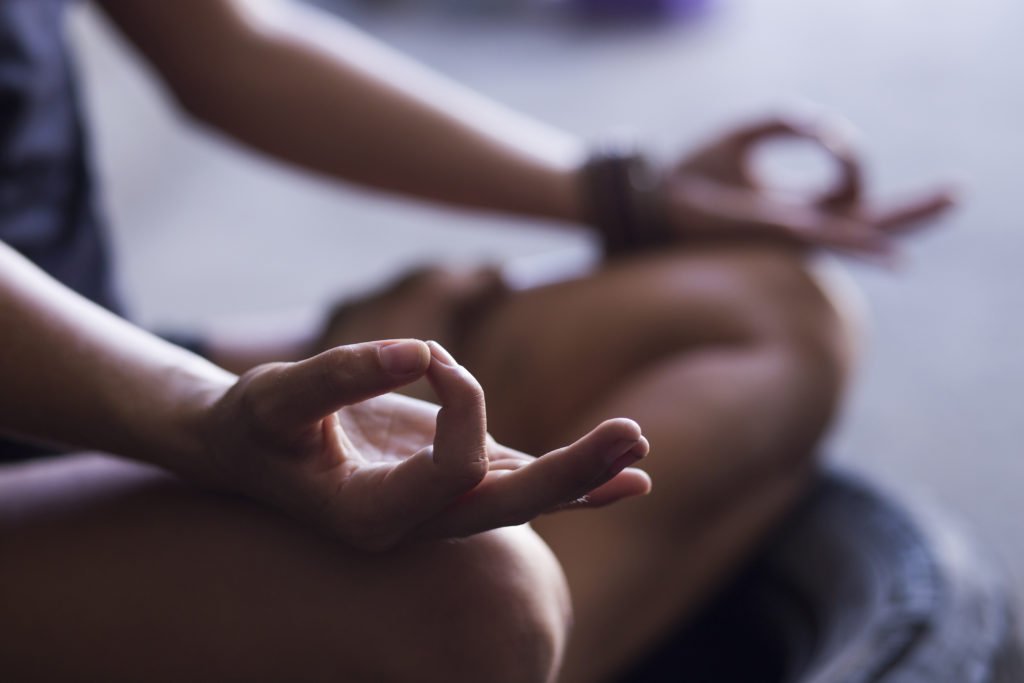 Yelp Review for The Yoga Space 5 stars!
New Hampshire has at least two studios that are not Americanized.  The Yoga Space is located in a small cottage behind a converted house that now contains offices.  The room is warm in both climate and atmosphere.  The practice retains the chants, and OMS, but if you do not feel comfortable partaking, your choice is respected.  The price is reasonable, but do bring cash or check as debit cards are not accepted.  Overall, it is tied for the best studio in the state.  Highly recommended.
"Three times a week at the Yoga Space works best for me. Any less, then it's my belief that I am attempting to catch up during the opening act.
Every visit is always quality time from the first breath to rolling up our mats. Never have I felt disappointed with Gretchen and the array of all the other enthusiastic and attentive teachers. These yoga teachers are all different in a varietal sense yet all the same….a box of crayons.
My time management to keep this personal commitment at the Yoga Space enables me to do an array of other activities and be on and in the moment all day long.
It's a quiet smile and a feeling being grateful when I think of the serendipitous effect of a yoga practice in my life."
~Delmar Burridge
"I have been studying at the Yoga Space since its inception.  It is one of those special places in which I can walk in the door and immediately feel the relief of releasing the burdens of the day.  My sense of breath, quiet and serious focus come into full being – the seamless flow of meditation and motion keeps me in a state of non-judgmental growth in my own practice.  The Yoga Space is a place for real study and I am grateful to Gretchen for the continual deepening of practice and presence that she makes space for each day."
~Paula M. Aarons
"I have attended many workshops, classes and events at The Yoga Space during the past five years.  I have always found the teachings at The Yoga Space to be high quality, enjoyable, and aligned with the spiritual foundations of yoga.  Rajeshwari and her team have built up a treasure of a resource for students and the community."
~Bharata (Bill Barry)
"My first experience was with the yoga workshop designed to promote deep relaxation.   It was a a revelation.  Gretchen created and provided a space, an experience of such deep comfort and relaxation that I felt altered somehow, I felt alive and yet calm and well…the world seemed brighter to me.  Thank you for that Gretchen."
~Sherry Edelstein
"I have been taking Yoga classes year round with Gretchen Carmel since September 2003. From the Central Studio to the Yoga Space, her classes have played a positive role in my health and well-being. The  studio offers a full range of experiences for those new to Yoga, as well for those well-acquainted with a Yoga practice. The Yoga Space is the "real deal" for your mind, body and soul!  We are so lucky to have this kind of studio in Keene!"
~Emily Goldsmith
"The Yoga Space has always been infused with such wonderful teachings and teachers and students of yoga; it seems to me to be a sacred space, one always filling with a community of yogis exploring the many wonderful forms of yoga – asanas, dharma, mantra – a space filling with compassion for all of us.  It's been an important treasure for me on my own path of learning and growing…"
~Peter Hendrick
"The Yoga Space offers so much more than your standard yoga class. Gretchen's classes are peppered with mantra, pranayama, meditation, mudras…each class is like a physical and spiritual check up. I also love how The Yoga Space gives back to the community through its work at The Community Kitchen. The Yoga Space "walks the walk" both on and off the mat."
~Sarah Neutra
"Whenever I chant in Gretchen's presence things change and shift for me. I was feeling things in my body with the various chants, and the Om Klim Eim Sau Sau Klim Eim had helped me feel calmer. The stress in my life this year has been greater than any I have ever experienced. This chant is giving me real physical relief from the stress, kind of like going to an internal spa everyday. I am SOOOO looking forward to next week's class."
~Gretchen Vogel
"I am so very grateful to have found this amazing and life changing space. I have only been attending classes for a week now, but already the transformation within myself is beautiful! ~Thank You~Namaste."
~Renee Whipple
Testimonials from the Online 40-Day Supported Mantra Practices with Rajeshwari:
"The lovely layers of mantra vibrations reach into all the energetic bodies making up what we call our "self". When we match the patterning of thoughts and sounds with other like minded people for forty days, I feel the energetic influences are that much stronger. We all contribute to each others growth and healing." 
~Gretchen Vogel

"This is the first time I have experienced the transformative power of a stacked mantra and Likhita japa practice. During and since it ended, I have felt an inner strength and peace that I haven't experienced before, an invisible infra-structure that is supporting me throughout the day, even without my calling on it! I especially enjoy chanting with Rajeshwari on the recordings sent, and feel part of an ongoing spiritual community I have been praying for. It also feels like a sweet connection with our beloved teacher Namadeva, which I feel as the Gayatri mantra regularly and spontaneously showing up in my consciousness"
~Sita Howard
"I have completed two forty day supported mantra practices with Rajeshwari. Although I was practicing at a distance, I felt energetically connected with her and with the group, especially when I chanted along to the mantra recordings. I appreciated Rajeshwari's tender care for the group, the way she carefully designed each mantra sequence, and gave us information about the mantras bit by bit, so as not to overload. I also admired her passion, knowledge and availability to answer questions. With each forty day practice, I felt an energetic shift in my life as the old fell away and the new (aligned with my heart's true desires) manifested. I highly recommend Rajeshwari as a knowledgeable, compassionate teacher."
~Janis McCallen
"What can I say about my experiences with Raji?  I love them. Her patience and thoughtfulness with answering questions is helpful, reminding me not to be so literal and to trust has been invaluable. Raji has supported me with guidance from afar, with supporting a mentality to believe as much as I could that events were working in the ways I needed them to.
Chanting has helped me center. I can't believe how easy it is for me to sit and breath and focus. I've been practicing yoga on and off for 12 years and now I can combine breath work with postures, consistently.  I am excited to be a part of the 40-day mantra practices."
~Melissa Hilborn